Company Profile
Company Overview
Company Name
Ejiri Chuzai Co., Ltd.
Foundation
May 1910
Establishment
November 3, 1950
Representative
Atsunori Ejiri, President
Capital
50,000,000 yen
Actual Sales
3,588,000,000 yen
(for the fiscal year ended in July 2020)
Head Office
5-8-5, Chiyoda, Naka-ku, Nagoya

TEL:

052-242-0201

FAX:

052-242-0203

Business Contents

Sales of various subsidiary materials for steelmaking
Sales of various subsidiary materials for casting
Processing and sales of row materials for refractories
Importation of minerals, various materials and chemicals
Manufacture and sales of monolithic refractories
Recycle department
Strictly selected dressing up and the size of pyrite stones

Main Bank
Mitsubishi UFJ Bank, Shin-Nagoya Ekimae Branch
Company History
May 1910
Manjiro Ejiri (great-grandfather of Atsunori Ejiri, incumbent President) constructed a plant equipped with a 50HP large-sized tube mill of American make for water-washing and pulverizing silica sand at Aza Yamazaki, Oaza Shimoshinano, Seto, Aichi, named it as "Masutama Milling Plant," and started the mass-production of stone dust for glass making by using electric power, which was then produced on a small scale by using water wheels. This plant was renamed later to "Ejiri Glass Raw Material Plant."

April 1927
Opened a sales office at Higashiozone-cho, Higashi-ku, Nagoya, and sold the whole range of raw materials for glass and ceramics. Also, opened a branch office in Tenmasuji, Kita-ku, Osaka, and sold the raw materials for glass under the name of "Ejiri Shoten." On the other hand, started the manufacture of natural silica sand for casting at Shinano Plant where raw materials for glass and ceramics were manufactured.
April 1930
Removed to 53, Tokugawa-cho 5-chome, Higashi-ku, Nagoya, designated the new office as Sales Office, renamed it to "Ejiri Shoten," and started the sales of cast steel and refractory materials in addition to raw materials for glass and ceramics.
August 1934
Constructed a clay pulverization plant at Akasaka, Tajimi, and started the manufacture of clay dust for molding and refractory mortar.
November 1942
Removed the Sales Office from Head Office to Shimozono-cho, Naka-ku, Nagoya, and renamed it to "Ejiri Chuzai Plant." Also, received the nomination as a cooperative plant of Toyota Industries Corporation.
November 1950
Incorporated as a joint-stock company, renamed to "Ejiri Chuzai Co., Ltd.," and appointed Yoshi Ejiri, Head of Firm, to be President. (Capital: 1,000,000 yen).
November 1955
Removed Nagoya Sales Office into Toyota Building in front of Nagoya Station in Nakamura-ku, Nagoya.
November 1961
Removed Head Office into Nagoya Sales Office in Toyota Building, and designated former Head Office in Seto as Seto Branch Office.
December 2002
Removed Head Office to the present location due to the rebuilding of Toyota Building.
August 2007

Obtain environmental management system (ISO14001) certification.
(applicable only to head office)

Access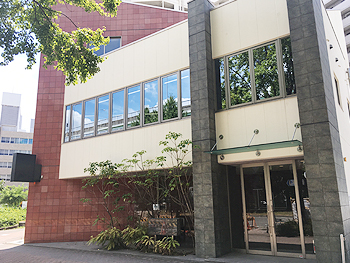 5-8-5, Chiyoda, Naka-ku, Nagoya
TEL:

052-242-0201

FAX:

052-242-0203
Environmental Policy
Basic Policy
We shall conduct business activities by using our total power in order to propose and promote the effective use of limited natural resources and make good use of them. On the other hand, all our employers shall conduct themselves considering the environmental preservation and protection in every aspect of our activities.
Basic Philosophy
We shall observe the environment-related international conventions, the environmental laws and regulations of Japan and related countries and other requirements that we have accepted.
We shall estimate the impacts of our business activities on the environment, set up our environmental objective and goal, review them regularly.
We shall treat the following activities as our primary themes for prevent the pollution and preserve the natural resources.

We shall select products having low environmental effect, and promoting the sales of such products.
We shall effort to reduce claims from our customers with strictly control of inventory.

We shall improve the environmental management system continually to improve the environmental performance.
October 01, 2016
Ejiri Chuzai Co., Ltd.
Atsunori Ejiri, President